Since 1965 Block Electric has had a long buy Product Details and prosperous history with Rush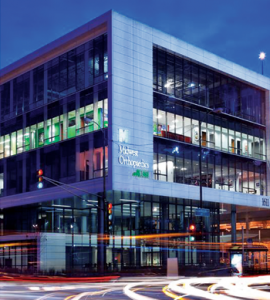 University Medical Center in Chicago. Our electricians are involved in a wide variety of projects at the hospital. Block Electric has completed the following projects at Rush within the past year:
• The 500 Club Lighting Project. Rush uses the 500 Club for in-house functions and events.
• Demolition of the east portion of campus.
• Updated the HVAC and electrical portions of the 13 Jelke building, along with AMS Mechanical.
In addition to the recently completed projects, Block is in the middle of the 7th and 9th patient bed floor remodels. The 7 South floor was finished several months ago. The 9 North project will begin within the next few months.
One little known fact is that Block electricians regularly assist in behind the scenes lighting and HVAC work for various TV shows that are filmed at Rush. Most recently Block worked on Chicago Med. In the past Block has worked on Boss and Shameless.
Mike Haines oversees all of Block Electric's projects at Rush University Medical Center and works closely with the foreman on individual projects. He also attends all meetings to ensure each project is on schedule and moving forward in a timely manner.