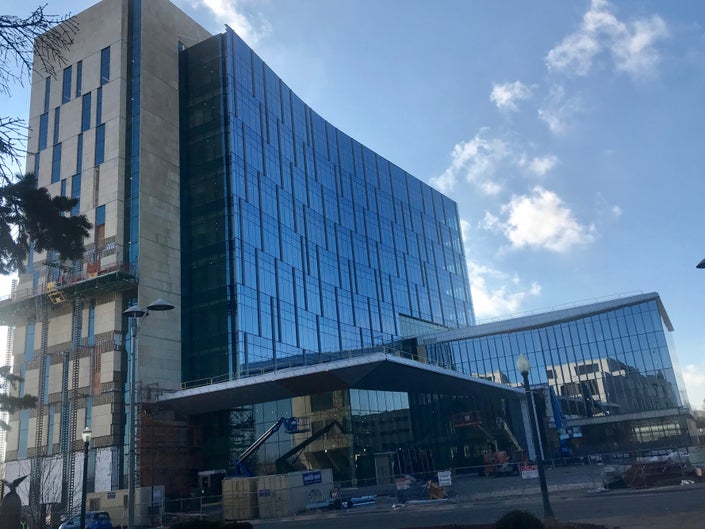 The 369,000 square foot $215 million Will County Courthouse project funded by the Will County government is nearing completion and slated to open this Fall in downtown Joliet.
The project includes a 10 story building with the 11th floor as a penthouse for mechanical equipment, as well as a basement that has a section for inmates awaiting trial. The new courthouse will have a total of 38 courtrooms and feature two sets of escalators between the first and third floors. The fifth floor will have a large cafeteria and dining area that may turn into a popular gathering spot for courthouse staff, lawyers and their clients. The ninth floor will initially be left empty.
The project was awarded to Block Electric in January of 2018 and was scheduled for substantial completion by September 15, 2020. The nearly 3 year project was led by General Foreman Chris McCormick and Foremen Travis Wills, Jeff Butts and Dave Senko. The construction manager is Gilbane, who Block has worked with on several other projects in Joliet and Will County. Wright & Company is the building's architect.
"It's going to be very, very, techy. I believe this will be the most technologically advanced state courthouse in the country when we open," Will County's Chief Circuit Judge Richard Schoenstedt was quoted as saying in an article in Joliet Patch. He stressed that he was only talking about state courthouses, not federal courthouses. In the article Schoenstedt said the new Will County Courthouse is quickly becoming a source of community pride around Joliet. When the new courthouse opens, an average of 2,500 people will use it daily, "plus there's 300 to 500 employees in addition to that," the judge said in the article.